Clinical Trial Site Recruitment Guide
The CT:IQ GREET project (a Guidance for Recruitment Examining Experiences at Trial sites) has developed recommendations for optimising recruitment which are broadly translational and applicable at the site level. This practical guidance is aimed at site staff who may struggle with the day to day challenges of recruiting participants into clinical trials.
Getting Started 
Our site recruitment guide has been loaded into an online tool called Teachable and is also available in a downloadable PDF document.  Click on the image below to access the online version (or on the link to the right for the PDF version).  You will be required to login to Teachable and set up an account.
Please work through the four sections in the order shown below for practical tips to help improve recruitment.  It also contains useful tools and links to resources, creating a central repository of relevant site recruitment information.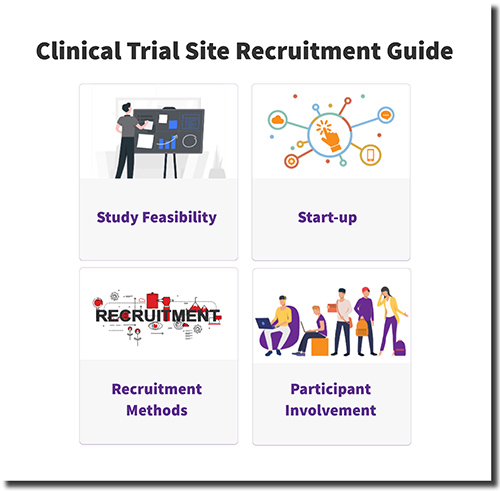 Feedback
We are interested in your feedback on the clinical trial site recruitment guide. Did it help you with your recruitment plans? Your feedback is incredibly valuable in helping us to refine the current version and hopefully enable the future development of a more interactive online tool. Provide your feedback
Surveys
This project conducted surveys of both site and sponsor staff as well as consumers, to better understand the barriers to clinical trial recruitment. We had over 500 responses to the surveys. The results of the surveys helped inform the recommendations contained in the site recruitment guide and can be accessed here:
CT:IQ project team
The site recruitment guide was developed by a project team from CT:IQ Steering Committee member organisations, bringing a broad range of experience and expertise from within the Australian clinical trials sector to the project. See who was on the project team.
Acknowledgements
The project team would like to thank those people from across the sector who kindly provided their expert knowledge and time to assist in compiling the relevant information for the site recruitment guide.
Disclaimer
The information contained in this site recruitment guide is for general information purposes only, please use at your discretion. Results may vary from site to site, we cannot guarantee effectiveness. We have provided links to numerous third party resources (no-one has paid to be included in this guide, they are provided as examples).
---
Learn more about our other projects